Boys 2023-2024 | 14U-18U | Club Team Fees – Payment Plan – Returning Players
Pay $1,150 Deposit on Commitment Day (August 29th).
Next payments will be on following dates:
Oct 1: $450
Nov 1: $450
Dec 1: $450
Jan 1: $450
Feb 1: $450
Included in Base Tuition   ($2,100)
2 Weekly Training Sessions from August through January and short season in May/June (6 months)
Position specific training sessions
Court & Equipment Fees
Coaching fees
TeamSnap Membership and HUDL video analysis and highlights
Administration, player insurance
Elite Speed, Agility, Strength, Hill and Jump Session by a certified personal trainer at state-of-the-art Phase One Elite (20 sessions per season, $1200 value)
Tournament Fees  ($1,200)
Includes tourney registration and coaches travel cost for 6 tournaments
Does not include player travel costs or lodging or food (on your own, hotel blocks available)
Premier Ren Athletics Uniform Package – New Players $350, Returning Players $100 if you reuse uniform
2 Ren Athletics Custom Sleeveless Jersey (black, red)
2 Ren Athletics Custom Board Shorts (black, red)
2 Top Flight Practice Shirts
Under Armour Backpack, Tag
Top Flight Warm-up / Wind Jacket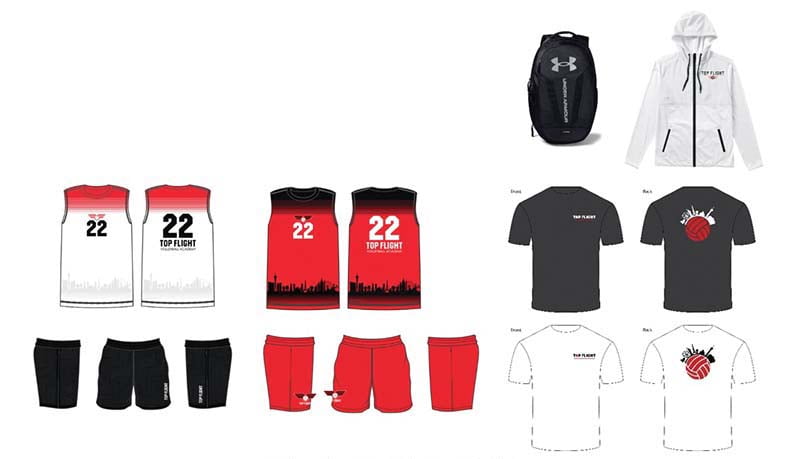 Total Season Tuition:
Base $2,100 + Tourneys $1,200 + Uniform $100 = $3,400
Payment Plan
August 29th, Commitment Day: $1150
Next Payments on the following dates:
Oct 1: $450
Nov 1: $450
Dec 1: $450
Jan 1: $450
Feb 1: $450
Other Cost Details and Options:
Practice Player / Alternates ($300 per month)
We will invite some players who don't make the travel team or aren't ready for full commitment to be practice players / alternates or part of development team/program with scrimmages
Practice player costs would be $300 per month, with option to purchase shirts, shorts, backpack, etc.
Opportunity to train with other players and coaches, but saves time and cost on travel and uniforms
Potentially invited to play tournaments if travel team players are unable to compete or get injured etc.
Additional Costs (not included)
Volleyball shoes not included (recommend Asics Gel Rocket 9/10, Sky Elite FF 2, or other Asics shoe)
Travel costs (lodging, food, and travel to Salt Lake City, Mesa, and Los Angeles)
18U must pay for team-provided travel ($200 extra per month) unless parent opts out and commits to provide for players own travel
AAU Membership Fee
Tentative AAU Tournament Schedule
Tourney/Day/Date
Location
Feel the Rush Invitational

Fri-Sat, Sep 22 – 23, 2023

Legacy Sports Park

6321 S Ellsworth Rd, Mesa, AZ 85212

UBVA Grand Prix

Fri-Sat, October 13-14, 2023

Utah Athletic Center (and other sites)
51 River Bend Way, North Salt Lake, UT 84054
Utah Super Regional
Fri-Sat, November 17-18, 2023
Utah Athletic Center (and other sites)
51 River Bend Way, North Salt Lake, UT 84054
SoCal Cup Winter Formal

Fri-Sun, December 8-10, 2023

Los Angeles Convention Center

Los Angeles, CA

SoCal Cup The Open Championship

Sat - Mon, Jan 13-15, 2024

Los Angeles Convention Center

Los Angeles, CA

SoCal Cup Winter Formal

Fri-Sun, June 14-16, 2024

Los Angeles Convention Center

Los Angeles, CA
2024 Junior National Volleyball

Championships (**Optional**)

Orange County Convention Center

Orlando, FL
NOTE: 14-Black and 16-Red and 17-Red may have modified travel (local tournament options or less tourneys)
ANTICIPATED PRACTICE SCHEDULE
Generally, Monday/Wednesday or Tuesday/Thursday, 2 x week
Strength Training on Monday night or Tuesday night (off night from practice day above)
Location: It's All Volleyball
Regular, weekly, practice schedule (subject to change):
Time
Mon
Tues
Wed
Thurs
3:30 - 5:30pm
18-Black
17-Black
18-Black
17-Black
17-Red
TBD
17-Red
TBD
5:30 - 7:30pm
15-Black
16-Black
15-Black
16-Black
16-Red

A

14-Black
16-Red
14-Black