Coaching Experience & Management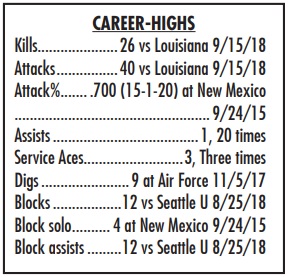 MB | 6-2 | LAS VEGAS, NEV. | CALVARY CHAPEL HS
*First four-time All-Mountain West honoree in program history
*Fifth four-time All-Mountain West honoree in conference history
*SDSU's all-time block assists leader (484)
*Fourth in SDSU history with 317 career block points
*Eighth in SDSU history in hitting percentage (.322)
*20th in MW history with 1,298 career kills *10th in MW history with 559 career blocks
*One of four players in Mountain West history to record 1,250 career kills and 550 career blocks
*One of five players in Mountain West history to have won both Offensive and Defensive Player of the Week in a career.
2018 (SENIOR): Became the first four-time All-Mountain West player in program history… Led the Aztecs both offensively and defensively throughout the season, leading SDSU in kills per set (3.01), hitting percentage (.322), sets played (125), and blocks per set (1.38)… Finished the season sixth in the Mountain West in hitting percentage, second in total blocks (172), and third in total points (496.5)… Finished fifth in the country with 172 total blocks and 22nd in the country with 1.38 blocks per set… Logged double-digit kill totals in 19 of a possible 31 matches… Recorded 11 showings with eight or more blocks… Posted a career-high 12 blocks against Seattle U on Aug. 25 and a 14-kill, 11-block double double against New Mexico on Oct. 11…. Logged a career-high 26 kills against Louisiana on September 15 — good for the most by an Aztec since the 2008 season… The 26 kills against the Ragin' Cajuns also finished tied for the most among all players in the Mountain West in a single match during the 2018 season… Named Mountain West Defensive Player of the Week after posting 23 total blocks against Boise State and Utah State… Also recorded 33 kills and a .375 hitting percentage over those two matches against the Broncos and Aggies… Earned All-Tournament team honors at the Aztec Invitational, SDSU/USD Challenge, and Outriggers Volleyball Challenge hosted by Hawai'i.
2017 (JUNIOR): Named an All-Mountain West selection for the third consecutive season after finishing third in the conference in blocks per set (1.28) and hitting percentage (.342)… Only player in the conference to finish in the top seven in points per set, blocks per set, and hitting percentage… Posted single-season career-highs in kills, kills per set, total attacks, digs, total blocks, and service aces… Recorded a career-high three service aces at Michigan State on Sept. 1… Logged a career-high nine digs at Air Force on Nov. 5… Totaled a career-high in blocks (11) and block assists (10) at New Mexico on Oct. 12… 11 blocks at New Mexico were the second most in a four-set match in the MW in 2017… Posted a .667 hitting percentage (14 – 2 – 18) at Nevada on Oct. 26, the fifth highest single-match hitting percentage in the MW in 2017… Logged 21 matches with 10 or more kills, including a season-high 18 against Boise State on Oct. 19… Named MW Offensive Player of the Week after averaging 3.62 kills per set and hitting .458 in wins over UNLV and New Mexico… Only 2017 Aztec to play in all 117 sets… Competed in the U.S. Women's National Team Open Tryout in March 2018.
2016 (SOPHOMORE): One of two players to start all 32 matches during the season … Was named to the 2016 all-Mountain West Team … Earned all-tournament honors at both the Oregon Classic (Sept. 2-3) and the Art Carmichael Invitational (at Rhode Island Sept. 9-10) … Led the team with an overall hitting percentage of .349 and an average of 1.04 blocks per set … Her mark of 2.76 kills per set was second on the squad … Her hitting percentage ranked fourth in the conference while her blocking average was ninth … In league play she we eighth in hitting percentage (.300) and ninth in blocking (1.11 per set) … Set a team record with a .900 hitting percentage vs. Cal State Fullerton (Sept.17) when she recorded 10 kills on 11 attacks with no errors … Tied her career high of 19 kills on two occasions: vs. Stony Brook (Sept. 10) and in the season finale at Nevada on Nov. 21 … Reached double figures in kills in 18 matches … Season-high nine blocks vs. Colorado State on Nov. 10 … Has at least one block in 31 of the team's32 matches … Set a career high with eight digs at Rhode Island (Sept. 9) … Named Mountain West Player of the Week on September 19 for her effort in that match along with contest vs. UC Santa Barbara and Long Beach State … Averaged 3.11 kills with a .545 attack percentage over nine sets during week of Sept. 12-18 … Had a hitting percentage over .300 in 18 contests.
2015 (FRESHMAN): Appeared in all 31 of the team's matches making 29 starts and playing in 106 of the teams 109 sets during the year … Was named to the 2015 all-Mountain West Team after averaging 2.30 kills and 1.04 blocks per set … She led the Aztecs in both of those categories … The 1.04 blocks per set mark ranked ninth in the Mountain West (all matches) … Turned in a personal best .700 hitting percentage in the match at New Mexico (Sept. 24) with 15 kills on 20 attacks and just one error … Finished with a hitting mark of .300 or better in 12 matches … Finished seventh in the Mountain West in conference matches with a .315 hitting percentage … Had a career-high 19 kills in the win at Fresno State on Oct. 10 along with a career-best 21 points … Set her career high with 10 blocks in the victory at UC Santa Barbara on Sept. 19 … Recorded at least one block in 30 of the 31 matches she played.
2014 (REDSHIRT): Was granted a medical redshirt year due to injury after playing briefly in two early-season matches … Played one set at Hawai'i on Aug. 31 with no stats … Appeared in two sets vs. Brown on Sept. 5 recording a kill, service ace and block assist.
HIGH SCHOOL: Played four seasons of varsity volleyball at Calvary Chapel Christian School in Las Vegas … Coached there by Nick Davis … Was named the Gatorade Player of the Year for the state of Nevada as a senior in 2013 … A first-team all-conference selection and conference MVP .. Also earned Max Preps Player of the Week honor during the 2013 campaign … Averaged 5.3 kills per set along with a .446 hitting percentage, .556 kill percentage and 66 total blocks … As a junior was a first-team all-state selection along with all-conference and conference MVP … Averaged 5.3 kills and had a .437 kill percentage with 84 total blocks … Second-team all-state and first-team all-conference honoree as a sophomore … Second team all-conference as a freshman … Team captain all four years … Played basketball during her freshman and sophomore years … As a sophomore averaged 10.9 points and 11.7 rebounds per game … Member of the National Honor Society and Honor Choir.
CLUB: Member of the Vegas Encore club team from 2012-2014 as a middle blocker … Competed for Club Dakine in Las Vegas in 2012.
PERSONAL:Deja Sabine Harris was born in Las Vegas, Nev. … Daughter of Adrian and Merlelynn Harris … Mother played basketball at UNLV (1988-92), played professionally in Europe (1992-94) and the WNBA (1999) and was a member of the Canadian Olympic team (1996) … Father played football (linebacker) at UNLV (1983-86) … Enjoys all outdoor activities, water sports, movies and music … Involved in non-profit volunteer activities both locally and internationally … Enjoys teaching children and is involved in her local Christian church … Was also recruited by Washington State, Notre Dame, Florida, Central Florida, Oregon, Utah and Kansas among others … Majoring in pre-med at SDSU with a minor in psychology.